Dacula Contact Lens Supplier, Exams & Fittings
---
Contact lenses are an attractive option for patients who want the convenience of clear vision without using glasses.
Our comprehensive contact lens exams and fittings ensure that our patients get a comfortable and clear fit for their specific eye shape and vision needs.
Establishing a Good Contact Lens Fit at iVision Eyecare
We offer traditional soft contact lenses like daily disposables, bi-weekly, and monthly options. We also carry specialty lenses for people whose eyes aren't suitable for regular contact lenses because of eye conditions like dry eye syndrome and keratoconus.
Whether you're new to contact lenses or are a seasoned wearer, our eye doctors are here to make your contact lens experience as smooth as possible.
Call us today and experience the convenience of contact lenses.

Some of Our Most Popular Prescription Contact Lenses
Contact Lens Eye Exam and Fittings
---
Finding the right contact lenses can be challenging. We simplify the process by offering comprehensive contact lens eye exams and fittings so that you can get a comfortable fit that offers clear vision.
During your contact lens exam, our eye doctors will ask about your lifestyle and vision needs. They'll also perform a comprehensive eye exam to evaluate the health of your eyes. Afterwards, they'll consider your eye shape and the best lens material and type for you.
During the fitting, our eye care team will give you a detailed care and maintenance plan and a sample to take home before you settle on purchasing an entire set. This ensures that the lenses offer a great fit and visual clarity.

Contact Lenses for "Hard-to-Fit" Eyes
At iVision Eyecare, we know that not all eyes are created equal, which is why we offer specialty contact lenses for "hard-to-fit" eyes.
If you have an eye condition such as astigmatism, keratoconus, or dry eye, our experienced optometrists can help you find an ideal contact lens brand and type that works for you.
Shop scleral lenses, rigid gas permeable (RGP) lenses, and hybrid contact lenses by booking a contact lens eye exam with us in Dacula.
Daily Disposable Contact Lenses
---
Daily disposable contact lenses are a popular choice because they're super convenient.
Disposables allow you to wear a fresh pair of lenses every day. This removes the need to disinfect and store them properly. This also reduces the risk of eye infections and other complications that are caused by dirty lenses
Bi-Weekly & Monthly Contact Lenses
---
If you're looking for long-term and affordable contact lens options, we offer bi-weekly and monthly contact lenses.
They can be disposed of every 2 weeks or once a month, and offer excellent vision correction. However, they need to be cleaned daily, so good hygiene is key.
Some bi-weekly and monthly contacts offer extended wear, allowing the user to keep them in for 7 to 30 days without removing them at the end of the day.
Bifocal & Multifocal Contacts
---
Bifocal and multifocal contact lenses offer vision correction at various distances for people with presbyopia (age-related farsightedness) and other refractive errors.
This removes the need for using both reading glasses and prescription glasses, allowing you to complete your daily activities with ease.
Our Recommended Products: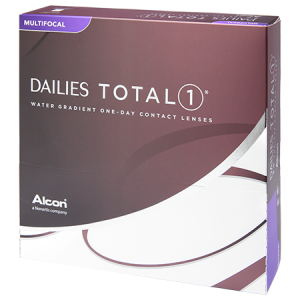 DAILIES TOTAL1® Multifocal